Cubot Note 20 product details
Update 26. October 2020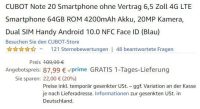 Great Amazon offer for the Cubot Note 20! The smartphone is currently available there for only 87,99 euros. That's an even better price than the Prime Day offer. Shipping with Amazon Prime is free of charge from Germany.
You can find all current prices at the end of the article in Price Comparison .
For a long time we didn't even have Cubot on our screen. Here and there a new smartphone was released, but the Chinese smartphone manufacturer has not kept the regular release cycle of past years for a long time. Now Cubot is launching a new smartphone that is aimed primarily at price-conscious buyers. The Cubot Note 20 is currently one of the cheapest devices at just under 110 euros.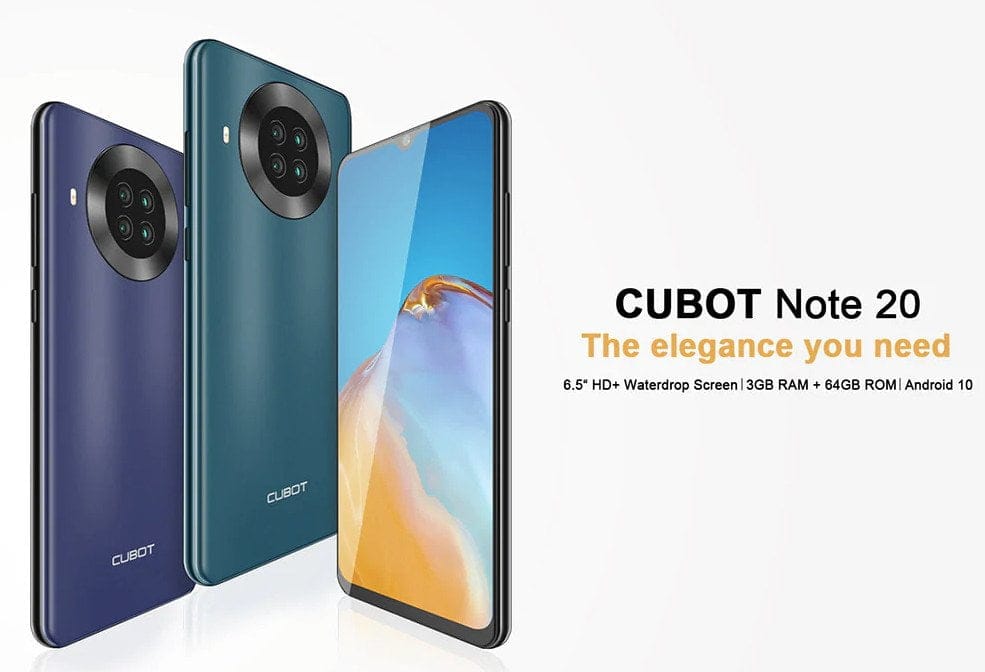 Starting with the display, the smartphone has a 6.5 inch IPS panel with HD resolution (1600 x 720 pixels). The 8MP front camera is hidden behind a waterdrop notch that visibly protrudes into the display. A MediaTek Helio A20 processor works under the hood. The chip, which was introduced in 2018, is based, among other things, on 4 ARM Cortex-A53 cores that clock at up to 2 GHz. The GPU is a PowerVR GE8300 that can handle less demanding games. The memory is divided into 3GB RAM and a 64GB data memory. The RAM is probably of the type LPDDR3, the data memory of the type eMMC5.1. The manufacturer has not announced any more details. It is possible to expand the data memory using a microSD memory card.

The design of the back is striking. The smartphone, which is available in blue, black and green, has a main camera arranged in a square. If you believe the manufacturer's information, a main camera with a 12MP Sony IMX486 sensor, a 20MP depth camera with a Sony IMX350 sensor, a 2MP macro camera and a 0.3 MP ultra-wide camera are installed. Information on sensors should always be taken with caution. Many of the small manufacturers name sensors that are not used in the finished product!
Thanks to dual SIM and 20G support, the Cubot Note 4 is easy to use in mobile communications. The NFC compatibility is particularly interesting. Hardly any other low-budget smartphone offers similar features. NFC can even be used extensively. The Android 10 operating system enables contactless payment with Google Pay and other payment services. Other functions of the Cubot Note 20 are dual-band WLAN and Bluetooth 4.2. The battery with 4200 mAh capacity should last 1-2 days without recharging.
Specifications
data
Brand: Cubot
Model: Note 20
Type: smartphone
Display: 6.5 inch IPS 1600 x 720
Processor: MediaTek Helio A20
Memory: 3GB RAM + 64GB data
Connectivity: Dual SIM 4G
NFC: Yes (Google Pay Support)
WiFi: 2.4 / 5 GHz
Bluetooth: 4.2
Camera: 12MP + 20MP + 0.3MP (8MP front)
Battery: 4200 mAh
Android: version 10
Dimensions
Weight: 190g
Size: 16,28 x 7,54 x 0,91 cm
Cubot Note 20 reviews
Cubot Note 20 - First Impression
User Reviews
cubot note 20
Satisfied
I am satisfied with Cubot. The price and quality are right.
Cubot Note 20 price comparison