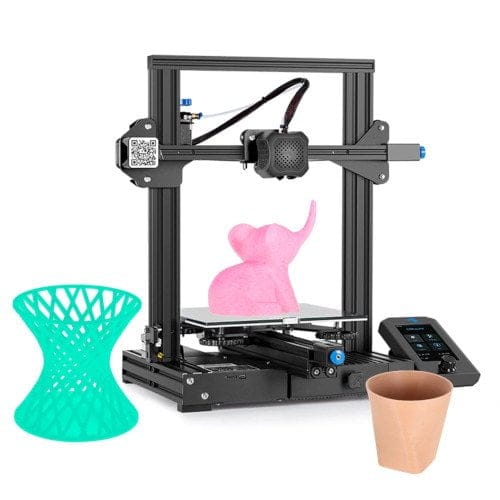 Creality Ender 3 V2 3D printer for 194 €
With this coupon you can join TOMTOP is Creality Ender 3 V2 for only 194 € instead of 220 € to buy! Shipping is free of charge from the German warehouse. Additional costs such as customs do not apply to this item.
Creality Ender 3 V2 product details
Update 16. October 2020
Buy Ender 3 V2 available at TOMTOP at the current best price. The online retailer has exclusively provided us with a discount code, which shows the price 194 Euros reduced. Shipping is from the German warehouse of the shop. This means that the 3D printer is not only with you in a few days, there are also no additional costs, such as customs duties.

The Ender 3 V2 is currently one of the best 3D printers under 300 euros. It is not for nothing that the upgrade of the popular Ender 3 received clear top marks in numerous test reports. The Ender 3 V2 is convincing excellent printing results, One easy entry into the world of 3D printing and a high modifiability. The company of the same name, Ender, has brought the new model up to date and revised and improved well-known functions. So the motherboard became through a 32-bit motherboard and quiet stepper replaced, which come into play with less than 50 decibels. That is also new color display. The user interface is operated via a rotary knob and not by touch, which one could have assumed given the box-like structure of the user interface.
The Ender 3 V2 took over the power supply from the Ender 3 Pro. Is built in Branded power supply from Meanwell. What is criticized in many Ender 3 V2 reviews is the filament feed through the Bowden extruder, which has not improved compared to the Ender 3. The problem here is the tiny opening and the lack of bevel, which means that the filament is brought in with a lot of dexterity. Nonetheless, other 3D printers also struggle with this problem, which is why the Ender 3 V2 is not an isolated case. There is an improvement after all. The extruder can be fed using a rotary knob that was not available on the predecessor. The heated print bed offers Print volume of 220 x 220 x 250 mm. The print bed is brought to the maximum temperature within a few minutes. So that the print adheres particularly well is the Glass surface with carborundum coated.
Another novelty are the Pull clamps on the X and Y axes. The straps can be tightened in no time using two rotary knobs. Tool can now be stored in a Tool drawer stow away. In case of an unexpected Print failure, printing can be continued from the same point. The Ender 3 V2 can cope with power outages, lost connections and filament breaks. There is no auto-level function, but can be installed later due to the high degree of modifiability.
Who is the Ender 3 V2 suitable for? If you are looking for an inexpensive 3D printer that is ready to go in just a few steps and is already convincing in terms of print quality without much effort, you should definitely include the Ender 3 V2 in the closer selection.
Specifications
data
Brand: Creality 3D
Model: Ender 3 V2
Type: FDM
Nozzle: Single
Nozzle diameter: 0,4mm
Nozzle temperature: up to 250 degrees
Print area: 220x220x250 mm
Layer thickness: 0,1 - 0,4mm
Memory card: TF card
LCD screen: Yes
Printing speed: recommended 60 mm / s
Temperature: up to 100 degrees
Accompanying material: ABS, TPU, PLA, HIPS, etc.
Material diameter: 1,75mm
Languages: English
File format: G-code, OBJ, STL
Model support function: Yes
X-axis positioning accuracy: 0,001mm
Y-axis positioning accuracy: 0,0125mm
Z-axis positioning accuracy: 0,00125 mm
Software: Cura, Repetier-Moderator
Compatible system: Windows, Linux, MAC
Voltage range: 110-240V
Current (W): 350 W
Connector type: USB
Certificates: CE, FCC, RoHs
Dimensions
Weight: 7,8 kg
Size: 475 470 x x 620 mm
Creality Ender 3 V2 reviews
Ender 3 V2 unboxing & installation
32-Bit Creality Ender 3 V2 - 3D Printer
Quick Comparison - Creality Ender 3 vs Ender 3 Pro vs Ender 3 V2
User Reviews
Creality Ender 3 V2 price comparison
Price too high? Use our price alarm clock!
Prices last updated on: 27. October 2020 06: 42