Chuwi LapBook Air - All information, offers and price comparison
The Chuwi LapBook Air is a slim China notebook with an allusion to the much more expensive MacBook Air. You will find all information about the notebook, current offers and a price comparison in the following article!
Overview
Display
Resolution: 1920 x 1080
Diagonal: 14.1 inches
Brightness: 360cd / m²
Performance
CPU: Intel Celeron N3450
GPU: Intel HD Graphics 500
RAM: 8GB DDR3 RAM
Internal memory: 128GB eMMC5.1
Memory extension: M.2 SSD slot
Connections
2x USB 3.0
1x Mini HDMI
1x headphone jack
1x MicroSD slot
1x power input
Accumulator
Capacity: 5.000 mAh (7.6V - 33.7 Wh)
Runtime: up to 9 hours
Charging time: 250 minutes
other
WiFi: Dual Band AC WiFi (2.4 + 5GHz)
Bluetooth: BT 4.0
Speaker: Stereo
Fingerprint scanner: no
Size: 329.2 220.5 x x 20.5 mm
Weight: 1.35 kg
Chuwi LapBook Air
Chuwi not only produces cheap and convincing tablets, but also has the "Chuwi LapBook" Series powerful Windows 10 notebooks Releases. In the following contribution we will deal with the Chuwi LapBook Airand Late 2017 published premium model of the manufacturer. Previously released models are Chuwi LapBook 12.3 (Middle 2017) and that Chuwi LapBook 15.6 (End 2016)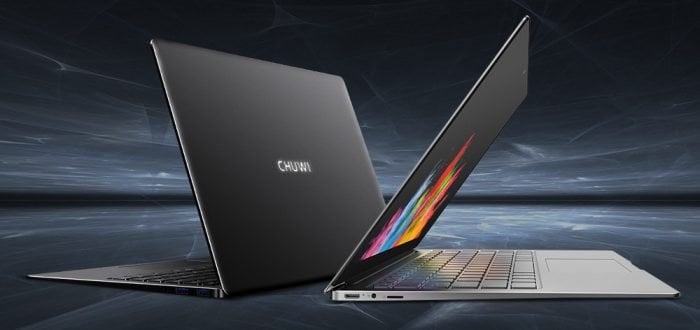 Chuwi LapBook Air is a End 2017 appeared notebook with 14.1 inch display diagonal and Intel Celeron N3450 processor. The notebook is strictly speaking a premium version of the previously released 14.1 Inch Chuwi laptop.
Chuwi Lapbook Air Notebook - Gearbest.com
Design, keyboard and touchpad
Visually, the notebook is reminiscent of a typical one MacBook clone from China, With moderation from only 32.92 x 22.05 x 2.05 cm the LapBook Air is even more compact than its predecessor models. The case is completely made Aluminium manufactured and shines in classic gray. The Weight The notebook is pleasantly light 1.35 kg, Keyboard and touchpad adapt to the case design. Below the illuminated chiclet keyboard is located 11 x 6.4 cm large multi-touchpad, Interested buyers should note that the keyboard is exclusively in the QWERTY layout is available!

connection options
The Connection options of the Chuwi LapBook Air amount to:
2x USB 3.0 socket
1x 3.5 mm jack audio
1x mini HDMI socket
1x power connection
1x MicroSD memory card slot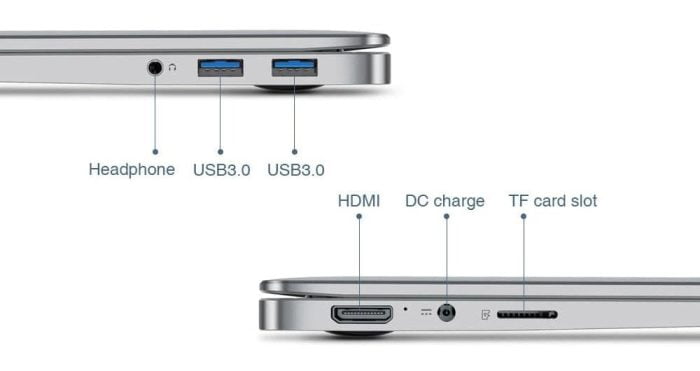 Display
The notebook is with a 14.1 Inch Full HD "Full-Lamination" IPS Panel fitted. On "Full-lamination" Panel is characterized by the fact that the display is not multi-layered, but the individual display layers merge in the production to form a complete product. Advantages are a compact panel to be manufactured, one better light transmission and along stronger colors, The luminance of the display is 360 cd / m². Often criticized is the highly reflective display glass and frequently occurring backlight bleeding.
Processor and memory
The Chuwi LapBook Air was one of the first China notebooks with Intel Celeron N3450 and 8GB dual-channel memory, The already 2016 released processor is based on Intel's Apollo Lake processor architecture and comes with 4 processor cores (quad-core) therefore. The processor clocks in Basic clock with 1.1 GHz and reached in Burst mode a maximum clock rate of 2.2 GHz, The processor-on-chip processor graphics is one Intel HD Graphics 500with which quite older games, such as CS: GO or Dota 2, can be played smoothly. The huge one 8GB memory clocks with 1333 MHz and reached 12-12-12 RAM timings.
The data storage is a 128GB Samsung eMMC 5.1 memory used. The write speed is 125 MB / s, the read speed is about 280 MB / s. If the memory is too low, you can extend it with an additional M.2 SSD (SATA-III 2242). For uncomplicated memory access, the notebook is equipped with a small flap on the underside.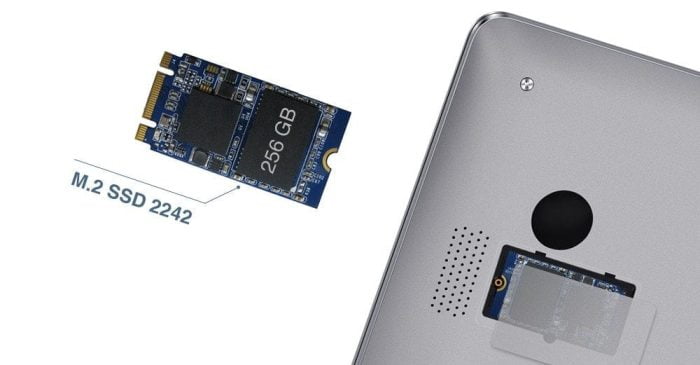 Battery and others
The capacity of the LapBook Air battery drops with only 5.000 mAh (7.6V 33.7 Wh) at least at first glance very low. However, one should keep in mind that the notebook is extremely compact. The average Battery life lies between 7 and 8 hours, A complete one charging needed 4 hours.
Further features are a Dual AC WiFi Module (802.11a / ac / b / g / n) with high data throughput, Bluetooth 4.0 and 2 megapixel front camerain which, although no miracles are expected, but sufficient for a spontaneous video transmission. Of course, the notebook is also with a Stereo speakers and two microphones (left and right of the front camera) equipped.
Price Comparison
Price too high? Use our price alarm clock!
Prices last updated on: April 5st, 2020 08:01