Chuwi HiBox Mini PC - Windows 10 and Android 5.1 Box
The Chuwi HiBox is a mini PC released in December 2016. The basis for this is the Intel 2016 X5-Z8300 processor introduced at the beginning, which uses Android 5.1 as well as Windows 10 as the operating system. What other interesting features the Chuwi Mini PC has to offer and whether it is also suitable for 4K streaming, you'll learn in this post!
Overview
Type: Mini PC
OS: Windows 10 and Android 5.1 (Kodi)
CPU: Intel Atom X5-Z8300 quad-core
RAM: 4GB
Internal memory: 64GB
Memory extension: Yes
WiFi: 802.11 a / b / g / n / ac
Bluetooth: 4.0
Headphone jack: 3.5mm
HDMI: Yes
Ethernet: Yes (1000M / 100M)
USB: 2x USB 2.0 and 1x USB 3.0
Chuwi HiBox - Multifunctional Mini PC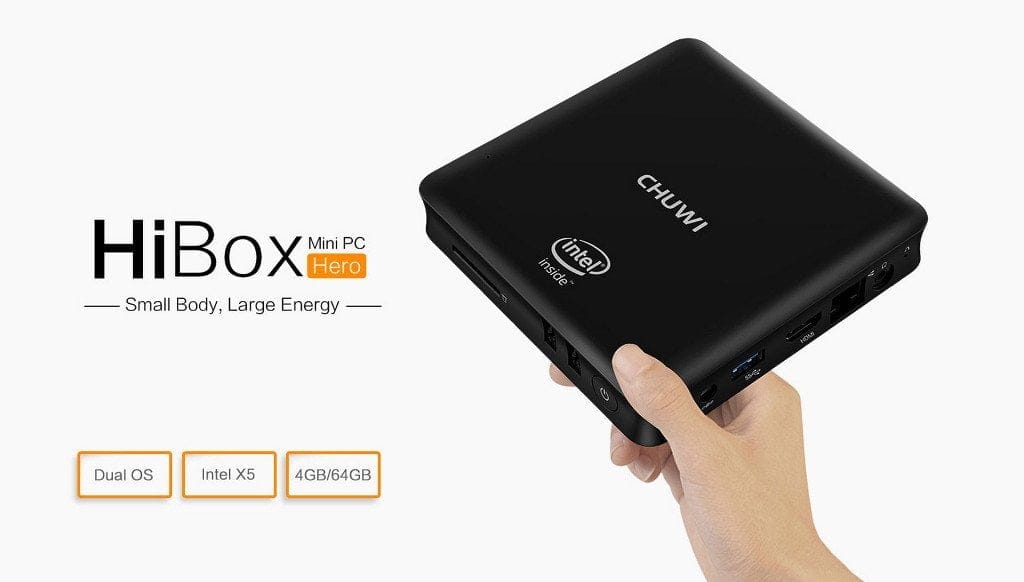 Versatile
In the just 12.00 x 12.00 x 2.50 cm large Chuwi HiBox hides a very interesting hardware combination. With the Intel Atom X5-Z8350 processor, which is also often used in tablets, this mini-PC is able to boot both Windows 10 and Android 5.1. Both operating systems are already preinstalled and can be started "out-of-the-box". Optionally, it is also possible to run Kodi on the HiBox. Whether you are looking for a mobile desktop alternative or want to use the Mini PC as a set-top box, pretty much any scope is covered.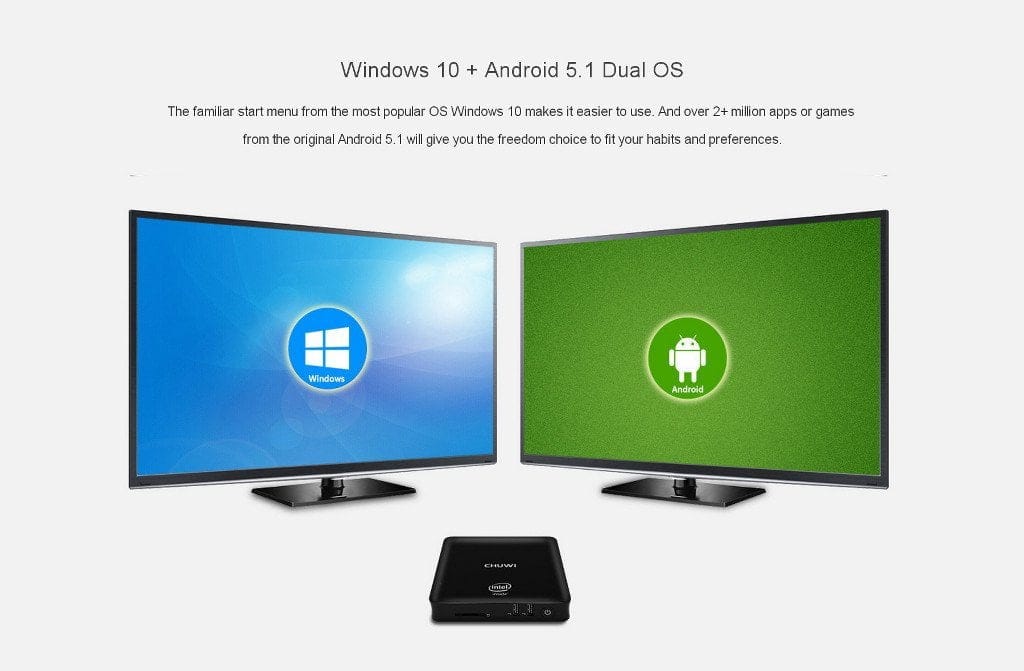 High performance backbone
With an 4GB large RAM (DDR3) and a 64GB (eMMC 5.0) large internal memory, this Mini PC is stately equipped. A liquid everyday use is thus nothing in the way. What this mini PC is not suitable for, are graphically challenging games. For this, the Intel Atom processor simply provides too little power. If the internal memory is too small, you can extend it by means of an SD memory card by a maximum of 128GB. External data carriers can be connected via two USB 2.0 sockets or one USB 3.0 socket. Other peripherals can also be connected to the box.
Streaming in 4K
An interesting feature of the Intel Atom X5-Z8350 processor is the possibility of H.265 and VP9 decoding at the hardware level. This makes the Chuwi HiBox ideal as 4K TV Box. All common streaming standards such as WiDi, DLNA, Miracast and SMB are supported. The Chuwi HiBox can also be connected to a monitor via HDMI cable via an HDMI socket. Unfortunately, the manufacturer makes no information about the HDMI version. Another advantage is the passive cooling, which annoying fan noise is a thing of the past. For use as a TV box is also an "Air Remote" included. In addition to basic controls, the remote also allows emulation of mouse movement. The transmission range, the 2.4GHz sparking remote control, the manufacturer specifies with up to 15 meters.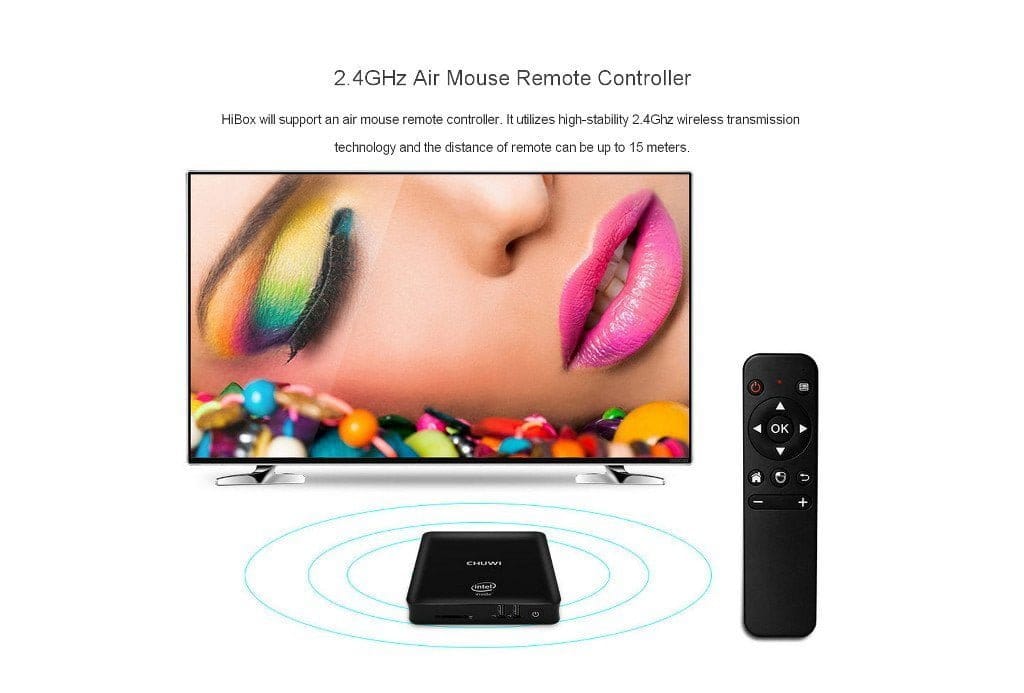 WiFi, Ethernet, Bluetooth
With Dual Band WiFi (802.11 a / b / g / n / ac) support, the Chuwi HiBox can be integrated into an existing network. A network connection can also be made via the Ethernet port (1000M / 100M) of the Mini PC. Furthermore, Bluetooth 4.0 is supported. In addition to the connection options already mentioned, the HiBox also has an 3.5mm earphone jack.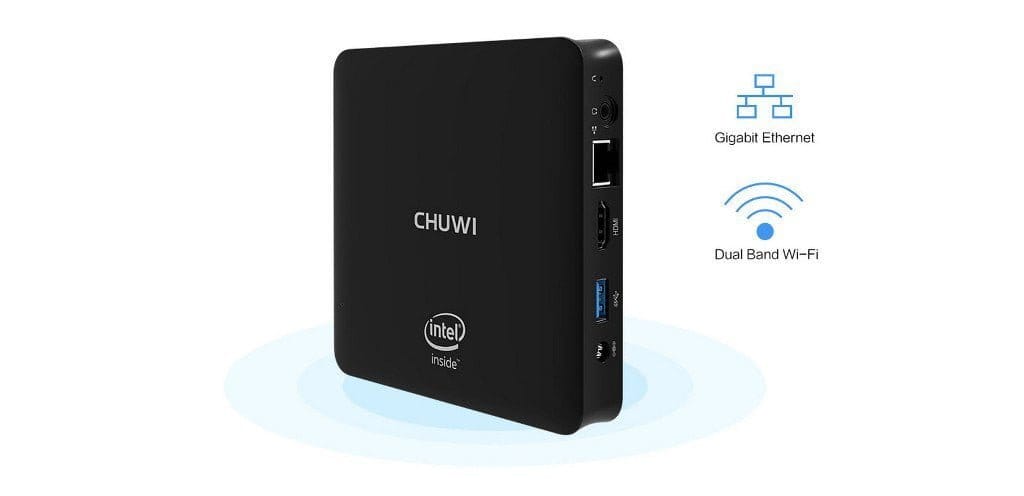 Price and availability
Price too high? Use our price alarm clock!
Prices last updated on: April 5st, 2020 11:01