Chuwi Hi13 Tablet - High Resolution 3K Display
The Chinese tablet maker "Chuwi" is trying with the Chuwi Hi13 on a Microsoft Surface Book clone with high-resolution 3K display. What features you would expect and how our first assessment of this tablet fails, more on this post.
Overview
Processor and memory
CPU: Intel Apollo Lake Celeron N3450
GPU: Intel HD Graphics 500
RAM: 4GB
Internal memory: 64GB eMMC
Memory extension: Yes
Display
Display Type: IPS
Display diagonal: 13.5 inches
Display resolution: 3000 x 2000 pixels
Aspect ratio: 3: 2
Multitouch: 10 fingers
Stylus: Yes
cameras
Main Camera: 5 Megapixel
Front camera: 2 megapixel
wireless
WiFi: 802.11 a / b / g / n / ac
Bluetooth: 4.0
Connections
1x USB Type-C
1x USB Type B (Micro)
1x Micro HDMI
1x 3.5mm Audio
Accumulator
Battery: 10.000 mAh
AC: 100-240V 12V 2A
other
Operating system: Windows 10
OTG: Yes
Size: 34.65 x 22.95 x 1.76 cm
Weight: 1.080g
Chuwi Hi13 - Windows 10 Tablet
High-resolution 3K display
The main feature of the Chuwi Hi13 is clearly the high-resolution display. At a Display diagonal of 13.5 inches the resolution is rich 3000 2000 x pixels, Thus, a dot density of 267 DPI is achieved, resulting in a crisp presentation. This is quite unusual for tablets and notebooks Aspect ratio of 3: 2 only rarely causes scaling problems. Many applications have already been adapted to the 3: 2 aspect ratio with the publication of the Microsoft Surface Book - which has the same display diagonal and resolution. Especially for those who like working often and with image editing programs, the traditional aspect ratio of 3: 2 offers far-reaching possibilities. The RGB color space The Chuwi Hi13 covers 100%. In order to work in the open air, and especially in sunshine, the display reaches a Luminance of 480 Nits, A comparatively decent value.
Another feature of the IPS display is one 10 Finger Multi-Touch Support. Also supported Chuwis HiPen H3 Stylus, This is an active stylus that allows accurate writing and drawing. The pen tip detects up to 1024 pressure levels.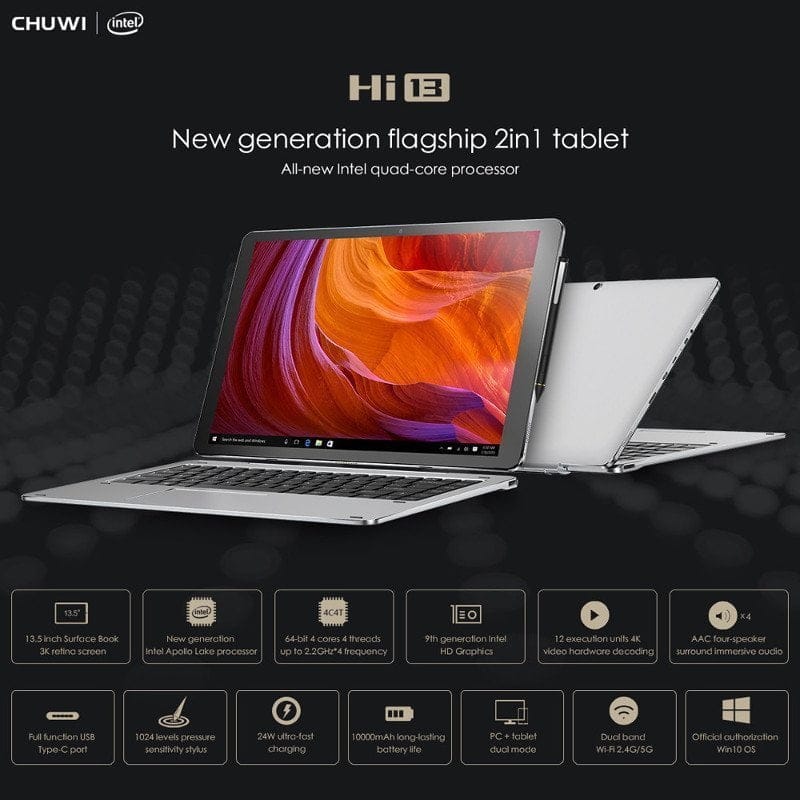 Processor and memory
As a processor, the Chuwi Hi13 has one Intel Apollo Lake Celeron N3450 installed. The Celeron N3450 is a continuation of the Intel Atom processor series and is often described as "Atom-Celeron". Released in the Q3 2016, the processor has a total of 4 processor cores clocking in the basic clock with 1.1GHz and maximum 2.2GHz. The integrated processor graphics of the system-on-chip amounts to Intel's HD500 graphicswhich allows playing older games titles such as CS: GO. Where the Chuwi Hi13 comes close to a Microsoft Surface Book, the performance of both tablets must not be compared. The performance of a Core i5 or i7 of a Surface Book is clearly superior to that of a Celeron N3450.
The memory equipment is with a 4GB large LPDDR3 memory and a 64GB large eMMC memory, commensurate with the price. An SSD with expansion capability would have been desirable. The internal memory of the Chuwi Hi13 can be extended by means of a Micro SD memory card.
Wireless, connections and camera
The tablet supports wireless communication WiFi standards 802.11 a / b / g / n / ac, Dual-band WiFi (2.4G and 5G) is therefore no problem. The supported device Standard amounts to V4.0. To stream screen content can "Intel Wireless Display" (WiDi) be resorted to. The wired connection options amount to one USB Type-C Socket, one Micro-USB Socket, one 3.5 mm audio output and a Micro HDMI Rifle. With the separate Docking keyboard, the Hi13 can be converted into a notebook. The keyboard itself extends the connectivity with two more USB Type-A sockets.
As with most China tablets, the cameras of the Chuwi Hi13 are rather secondary. The main back camera resolves with 5 megapixels. The front-side front camera brings it to a maximum resolution of 2 megapixels. Although you can record videos and pictures, you should not expect a fantastic recording quality. Rather, both cameras are suitable for spontaneous video telephony to which are not too high demands.
Design and battery
The tablet measures 34.65 x 22.95 x 1.76 cm and bring about 1.080 g on the scales. In the so-called Unibody design The housing is CNC machined and made entirely of metal. With a thickness of just 9.2 mm, the tablet is comparatively thin. Including an attached docking keyboard, the notebook converted into a notebook reaches a thickness of 16.5 mm. On the sides of the housing are each 2 speakers. Thus it brings the Chuwi Hi13 on total 4 speakersthat promise a voluminous sound. The Capacity of the battery indicates the manufacturer with 10.000 mAh and an average running time of 8 hours.
Conclusion and price comparison
The Chuwi Hi13 is an interesting approach to bring display resolutions beyond the 2K on a tablet. Although the hardware is not comparable to a Microsoft Surface Book, you get for about 315 € a very interesting Windows 10 Tablet, which are due to the unusual 3: 2 aspect ratio especially for web surfing, image editing or Office work should.
Price too high? Use our price alarm clock!
Prices last updated on: April 5st, 2020 14:01