Chuwi Hi12 - 12.2 inch tablet with 2K display
The Chuwi Hi12 was released in January 2016 and is still one of the most popular China tablets from an 12 inch display diagonal. In addition to interesting dual OS options, the tablet also offers a high-resolution 2K display. All information about the specifications, the price and the availability can be found here!
Overview
OS: Android 5.1 and Windows 10
Display diagonal: 12.2 inches
Display resolution: 2160 x 1440
Multitouch: 10 fingers
CPU: Intel Cherry Trail X5-Z8350
GPU: Intel HD Graphic (Gen8)
RAM: 4GB
Internal memory: 64GB
Memory expansion: up to 128GB
WIFI: 802.11b / g / n
Bluetooth: 4.0
Main Camera: 5.0MP
Front camera: 2.0MP
connectors:
* 1x USB 2.0 (Type-A)
* 1x USB 3.0 (Type-A)
* 1x Micro-USB
* 1x HDMI Out
* 1x 3.5mm headphone jack
Battery: 3.7V / 11000mAh
AC Adapter: 100-240V 5V 3A-1.5A
Chuwi Hi12
Intel Atom processor
The Chuwi Hi12 is with a low power Intel X5-Z8300 Processor equipped, which is mainly suitable for office work and allows a largely fluid operation. Due to the built-in processor, the tablet can also take turns with Windows 10 or Android 5.1 be launched, which offers numerous uses. Both office work and the playback of media pose no problems for the processor. However, if you want to play computer-intensive games on the tablet, the Chuwi Hi12 is not an option. The processor is supported by a total of 4GB memory and a 64GB large internal memorywho is in addition to a MicroSD memory card expand.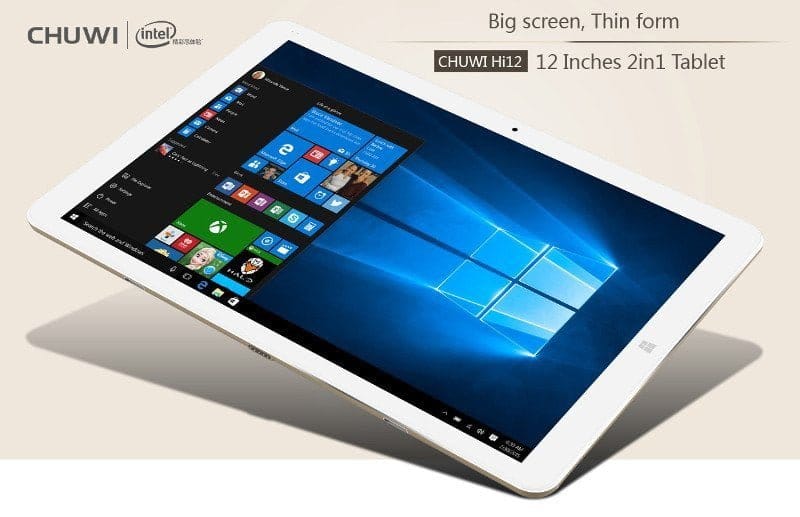 High-resolution 2K display
The display is a high-resolution one 2K Display (2160 x 1440). The display diagonal is 12.2 inch, which achieves a dot density of 213 PPI. The Aspect ratio is 3: 2, Multitouch is supported with up to 10 concurrent inputs. The built-in IPS panel is characterized by a stable viewing angle and a natural color rendering. An active stylus can also be used for input. However, this must be purchased separately. The same applies to the keyboard, which is available as an option.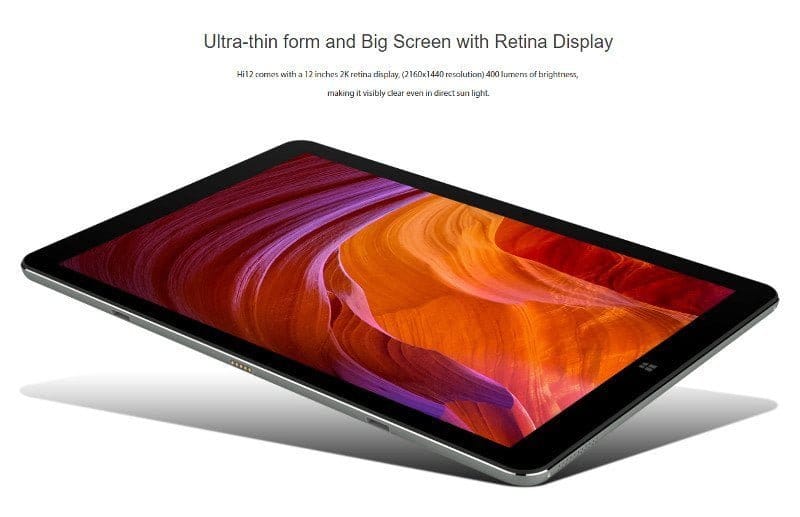 Powerful battery and others
Chuwi gives the capacity of the battery with plenty 11.000 mAh at. This guarantees long-lasting battery life with both operating systems. The connection options These include a USB 3.0 and a USB 2.0 jack, both type A, a micro USB jack, as well as an HDMI output and a 3.5mm headphone jack. A back Hautpkamera is available and resolves with 5 megapixels. The front camera resolves megapixels with 2. Both cameras are suitable for video telephony. A microphone is also integrated. For wireless transmission, the Chuwi Hi12 supports both WiFi, as well as Bluetooth 4.0, over OTG can also be connected to a 3G dongle, so that the tablet can also be used in the mobile network.
Price and availability
Price too high? Use our price alarm clock!
Prices last updated on: 2. July 2020 20: 01