Chuwi HeroBox product details
Compact and many connections
It is not the first time that the manufacturer known for tablets has brought out a mini PC. The new model, which goes by the name "HeroBox", is equipped with an Intel Gemini Lake N4100 CPU, 8GB RAM and a 180GB SSD. All hardware is housed in the compact, just 3,7 cm high metal housing. The connection options are numerous.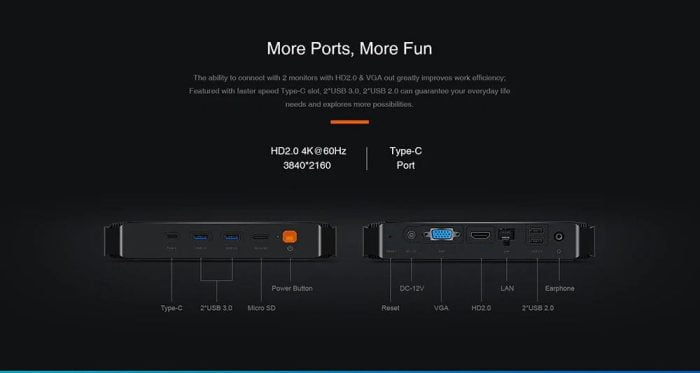 In addition to a microSD reader, the Mini PC has two USB 3.0 sockets and a USB Type-C port on the front. On the back there is an HDMI 2.0 socket with HDCP support, a VGA port, two further USB 2.0 sockets, an RJ45 port and a microphone input.
Mini PC with Intel SoC
The Intel Gemini Lake N4100 SoC clocks with a maximum clock frequency of 2,4 GHz. A ninth generation Intel UHD Graphics 600 GPU ensures smooth video playback. The HeroBox is able to encode a 10-bit 4K VP9 video. Less demanding games can also be played with it. An 8 GB LPDDR4 RAM and a 180 GB SSD ensure fast writing and reading.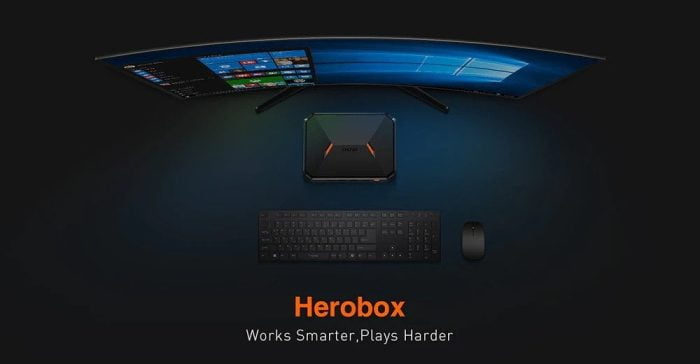 Windows 10 or Linux
The Chuwi Herobox runs on Windows 10, which is best for office work and entertainment. The PC is already delivered with Windows. In addition, Linux and Ubuntu are supported on the computer to meet the needs of other groups of users. The Mini PC can also be used as a home entertainment system.
Specifications
General
Brand: CHUWI
Model: Herobox
Type: Mini PC System: Windows 10
CPU: Intel GEMINI LAKE Celeron N4100 Quad Core
GPU: Intel HD Graphics 600
RAM: 8GB LPDDR4
connectivity
WLAN: 802.11 a / b / g / n / ac
Bluetooth: Bluetooth 4.0
Connections: DC 12V, HDMI, LAN, Mic, Micro SD Card Slot, Microphone Jack, Type-C, USB2.0, USB3.0, VGA
HDMI version: 2.0 HDCP
Current
Type: External power supply 12V - 100-240V / 50-60Hz
Dimensions
Weight: 590 g
Size (L x W x H): 18.76 x 13.83 x 3.73 cm
What's in the box
Includes: 1 x Mini PC, 1 x Power Adapter, 1 x PC Holder, 1 x VESA International Standard Pendant, 1 x English User Manual
Chuwi HeroBox reviews
Chuwi HeroBox Mini PC review: A mobile PC in your pocket
User Reviews
Chuwi HeroBox
Fast, quiet and compact
Bought in the presale. Already shipped with Windows 10. The license is therefore virtually free. Otherwise pleasantly fast. Office is smooth, Chrome too, videos run smoothly up to 4K. Power consumption pleasantly low.
Chuwi HeroBox price comparison