This is CHERRY XTRFY
Earlier this year, CHERRY, the legendary German manufacturer of keyboards and mechanical switches, acquired the Swedish peripheral manufacturer XTRFY and launched the new gaming brand "CHERRY XTRFY".
With eSports in focus, the company was able to win well-known eSports organizations such as SK Gaming, Vitality and HEROIC as well as the Counter-Strike legend "f0rest" as partners under the umbrella of the XTRFY FAMILY.
In a spectacular event at the XPERION in Cologne, the company presented three revolutionary keyboard models, the CHERRY MX 8.2 TKL Wireless, the CHERRY MX-LP 2.1 Compact Wireless and the CHERRY MX 3.0S Wireless.
Introducing CHERRY gaming gear – 3 new WIRELESS keyboards!
Innovative technology meets attractive design
The keyboards are equipped with the latest CHERRY technology and, in addition to the well-known CHERRY MX switches, offer a triple connection option: cable, Bluetooth and a proprietary 2,4 GHz connection.
The latest CHERRY achievement is Advanced Wireless Technology, a special Low Latency Mode (LLM) that reduces the response time to just one millisecond. To avoid interference to other wireless devices, 40 radio channels are available, which are switched up to 1600 times per second.
CHERRY MX 8.2 TKL Wireless : The slim all-rounder
The MX 8.2 TKL Wireless comes in a slim aluminum housing and has a total of 87 keys due to the lack of a numpad. The keyboard is available in black, white or pink with a choice of MX Black, Blue, Brown, Red or Silent Red switches.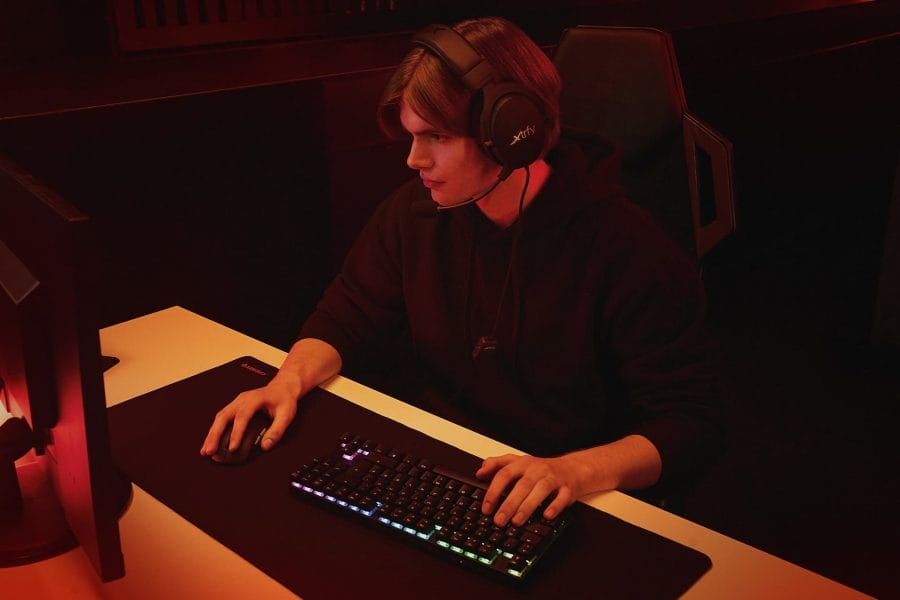 It features N-key rollover, anti-ghosting, Windows keylock and a 16M color RGB backlight controllable via Cherry Gaming Software. The price is 209,99 euros (RRP).
CHERRY MX 3.0S Wireless : The signature model
The MX 3.0S Wireless is based on the classic MX Board 3.0S and has a total of 105 keys including the numeric keypad. The equipment is almost identical to the MK 8.2 TKL Wireless. This keyboard is also available in black, white or pink and with the switches mentioned above. The price is 179,99 euros (RRP).

CHERRY MX-LP 2.1 Compact Wireless : The compact wireless solution
The MX-LP 2.1 Compact Wireless is a compact, space-saving 68-key model that uses low-profile switches. These switches have a shorter key travel than traditional switches.

The keyboard features an attractive, colorful retro design. The price for this model is 139,99 euros.
Availability
The keyboards will be available from May and can already be found on the CHERRY website be pre-ordered. More gaming peripherals from the XTRFY brand will follow shortly.
Source: press release & product page