Bluboo S1 - Fast-borderless smartphone
The Bluboo S1 is already the 4 almost-borderless smartphone we're reporting on. To what extent the smartphone differs from the other devices of this type, as well as a first assessment of the Bluboo S1 you can find attached!
Overview
Processor and memory
CPU: MediaTek Helio P25
GPU: Mali-T880
RAM: 4GB
Internal memory: 64GB
Memory extension: Yes
Display
Display Type: IPS
Display diagonal: 5.5 inches
Display resolution: 1920 x 1080 pixels
Screen Protector: Corning Gorilla Glass 4
cameras
Main Camera: 13MP + 3MP
* PDAF
* LED flash
Front camera: 5 megapixel
Network
Dual SIM: Yes
SIM size: 1x Micro SIM + 1x Nano SIM
2G: GSM 1800 / 1900 / 850 / 900 MHz
3G: WCDMA 2100 / 900 MHz
4G LTE 2100 / 800 / 1800 / 2600 / 900 MHz
wireless
WiFi: 802.11a / b / g / n
Bluetooth: 4.0
GPS: Yes
sensors
* Ambient light sensor
* Proximity Sensor
* G-Sensor
*Gyroscope
* Magnetometer
* Fingerprint Sensor
Accumulator
Battery: 3.500 mAh
Connection: USB-C
other
Operating system: Android 7
Size: 14.86 x 7.43 x 0.79 cm
Weight: 169g
Bluboo S1
Design
Just judging by the render images, that is different Bluboo S1 almost nothing of the recent release DOOGEE MIX, You could even almost think that the smartphone of both companies is just an OEM product, which has only a different branding. The front of the smartphone is built like all previously published almost-borderless smartphones. The 5.5 inch display is surrounded by comparatively wide margins (see GearBest Teardown Video!). Below is typically a wide body section that provides space for the Home button and front camera. The housing is completely made of plastic. The smartphone is available in white or black.
Display
In contrast to DOOGEE MIX Bluboo is also on one 5.5 inch displayHowever, this dissolves in Full-HD on and is of the type IPS. Bluboo itself speaks of a screen-to-body ratio of 90%. Of course, this value is completely unrealistic. With a bit of math, the 14.80 x NUMX x mm case dimensions and the 7.40 inch display diagonal allow for the case dimensions actual screen-to-body value of 76% calculate. The display is supposed to be protected by Corning Gorilla Glass 4.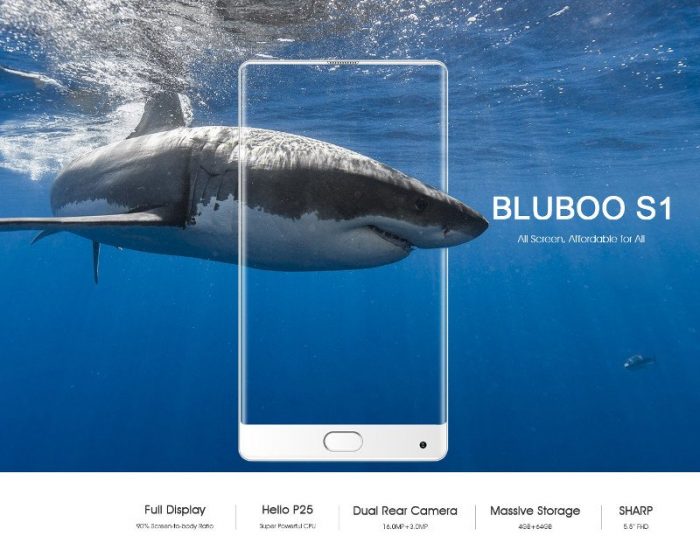 Processor and memory
Almost each of the previously announced and partially available tri-bezel-less smartphones from the low budget segment, has as system-on-chip the MediaTek Helio P25 installed. This, manufactured in the 16nm process Octa-core processor, currently leads MediaTek's midrange P processors and proves to be comparatively energy efficient. Overall, 8 Cortex-A53 cores clock maximum with 4 x 2.5 GHz and 4 x 1.6 GHz. The storage facilities The Bluboo S1 comes with a 4GB LDPDDR3 memory and an 64GB eMMC5.1 flash memory. A memory expansion via SD memory card is possible.
4GB RAM 64GB Front Fingerprint Sensor MTK6757
cameras
On the back is the Bluboo S1 with a Dual sensor main camera fitted. Of the main sensor solves natively with it 13 Megapixel and reaches an interpolated value of 16 megapixels. An additional one 3 megapixel image sensor makes for one improved depth perception, bringing the so-called "Bokeh" effect can generate. At the same time, what is superficial appears to be particularly sharp, whereas subtleties that are not in focus are blurred. How the main camera beats the competition remains to be seen. The promised by Bluboo "DSLR quality", will certainly not be achieved. The front camera of the smartphone comes along with it 5 Megapixel on.
Connectivity and battery
The Bluboo S1 supports All common 2G, 3G and 4G frequencies or bands and can therefore be used without restriction in Germany. The supported WiFi protocols amount to 802.11a / b / g / n, Bluetooth is available in the 4.0 version. The sensory equipment amounts to an ambient light sensor, a magnetometer, a gravity sensor, a proximity sensor and a gyroscope. In the front-side home button is also a Fingerprint scanner integrated. As operating system is already Android 7.0 on the smartphone. Of the Accumulator has a capacity of 3.500 mAh and is thus slightly larger than the battery of the DOOGEE MIX.
Summary
Almost every small producer of China smartphones currently wants a smartphone based on the concept of a smartphone Xiaomi Mi Mix launch. The devices released so far, however, are less convincing. Unsightly bezels and poorly optimized software are almost the norm. The Bluboo S1 lines up - at first glance - alongside these devices, so that you shouldn't have too high expectations for the smartphone! One can only hope that the manufacturer's run on the cheap tri-bezel-less smartphone will soon come to an end.
Price Comparison
Price too high? Use our price alarm clock!
Prices last updated on: April 5st, 2020 08:01