BlitzWolf BW-MPC1 product details
The advantages of a mini PC are obvious. The devices are extremely space-saving, quiet and consume significantly less power than a normal desktop PC. The BlitzWolf BW-MPC1 falls into the category of inexpensive mini PCs. The compact housing (13,9 x 13.9 x 3.9 cm) of the BW-MPC1 contains a particularly economical Intel Celeron J4125 processor (4 cores 2 - 2,7 GHz) with a TPD of just 10 watts.
The mini PC is up to most office and multimedia tasks. The performance is only insufficient for demanding games. The computer has not built in a dedicated graphics card. Depending on your preference, the PC can be used with Windows 10 or Linux.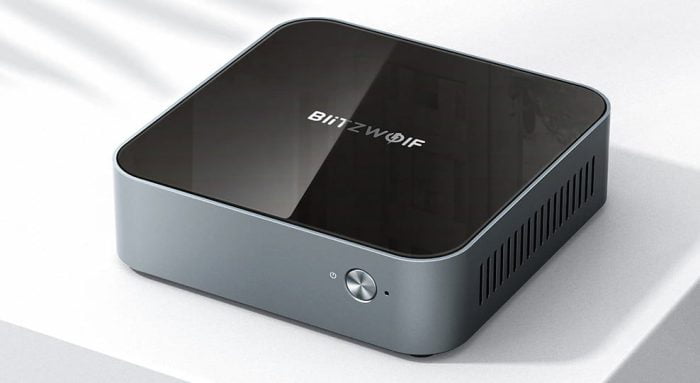 BlitzWolf didn't cut corners when it came to storage. An 8GB LPDDR4 memory and a 128GB eMMC memory for files are installed. The existing SATA 3 and M.2 interfaces are an advantage, via which the memory can be expanded with an SSD (max. 2TB).
Dual-AC WiFi (2.4 GHz & 5 GHz) and Bluetooth 5.0 are available for wireless connections. This means that wireless peripherals can also be connected to the mini-PC.
The physical connections include two USB 3.0 and two USB 2.0 connections, an HDMI 2.0 output, a VGA connection, an SD memory card slot, an audio connection and a Gigabit Ethernet connection. Video signals of up to 2.0K4 can be transmitted via the HDMI 60 output. So perfect for multimedia applications.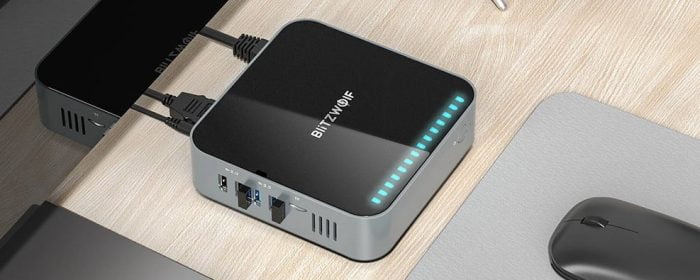 Specifications
General
Brand: BlitzWolf
Model: BW-MPC1
Type: Windows 10 / Linux
CPU: Intel Celeron J4125
GPU: Intel HD Graphics 600
RAM: 8GB LPDDR4
ROM: 128GB eMMC
Interface: 1x SATA 3 / 1x M.2 2280 PCIe
connectivity
WLAN: 802.11 a / b / g / n / ac
Bluetooth: Bluetooth 5.0
Connections: 2x USB 3.0, 2x USB 2.0, 1x TF, 1x HDMI, 1x VGA, 1x audio, 1x RJ45, 1x 12V DC
HDMI version: 2.0 HDCP (4K60)
Current
Type: External power supply 12V - 100-240V / 50-60Hz
Dimensions
Weight: 1 kg
Size (L x W x H): 13,9 x 13.9 x 3.9 cm
What's in the box
Contains: 1 x Mini PC, 1 x Power Adapter, 1 x HDMI, 1 x SATA, 1 x English User Manual
BlitzWolf BW-MPC1 reviews
There is currently no review for the BlitzWolf BW-MPC1 Mini PC.
User Reviews
BlitzWolf BW-MPC1 price comparison