BEZIOR M26 product details
We have another new e-bike deal for you. It's about the foldable BEZIOR M26 e-bike, which is, however, equipped with full-fledged 26 inch tires. The electric bike is powered by a 500 watt motor. There is a classic moped mode (please note the legal situation depending on the country!), A pedelec mode, manual operation and a mode that supports pushing.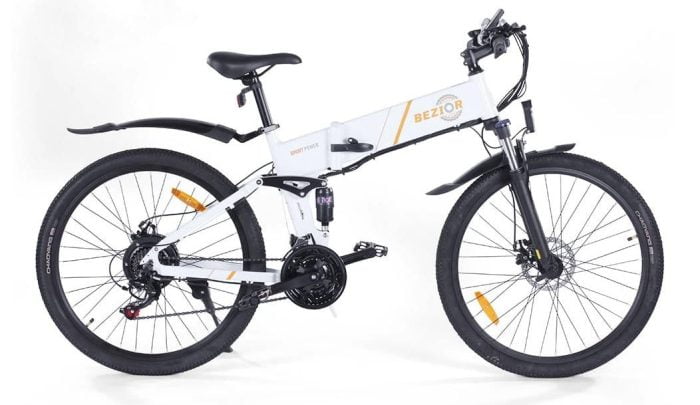 The BEZIOR M26 gets its power from a 48V 10.4AH battery pack, which is permanently housed in the main frame. In electric mode, the bike reaches speeds of up to 30 km / h. A SHIMANO 7-speed gearshift supports the driver manually.
The load capacity of the e-bike is around 150 kg and is therefore slightly higher than is the case with competing models. On rough terrain, the suspension fork and the rear suspension help to keep contact with the ground stable. Otherwise, the BEZIOR M26 offers pretty much everything a bike should offer. Splash guards, reflectors, LED headlights and brake lights are available.

A bike computer on the handlebars serves as a speedometer, provides information about the gear engaged, the remaining battery and the covered range. Speaking of range. According to the manufacturer, up to 80 km in electric mode are possible here.
Specifications
General
Brand: BEZIOR
Model: M26
Type: E-Bike / Pedelec / electric bike
Leistung: 500W
Battery: 10.4AH / 48V
Parameter
Range: 60 km (electric) to 80 km (pedelec)
Speed: 30 km / h
Incline: up to 25 °
Load capacity: max. 150 kg
Tire size: 26 inches
Dimensions
Weight: 25.5 kg
Size (unfolded): 177 x 82 x 104 cm
Size (folded): 147 x 24 x 73 cm
What's in the box
Contains: 1 x e-bike, 1 x tool, 1 x charger, 1 x user manual
BEZIOR M26 reviews
There are currently no reviews of the BEZIOR M26.
User Reviews
BEZIOR M26 price comparison