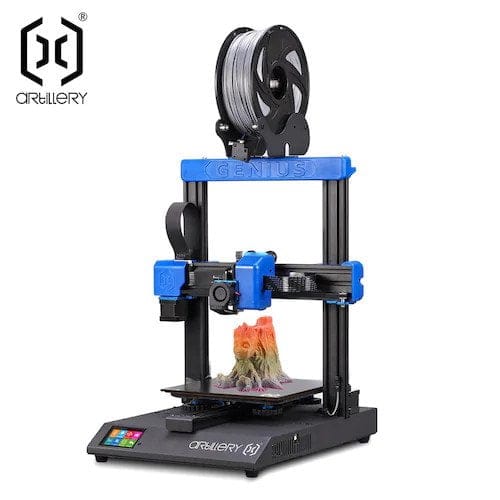 Artillery Genius 3D printer for € 231
With this Banggood Offer you can buy the Artillery Genius 3D printer for only 231 € instead of 251 € The dispatch takes place directly from the German warehouse within 2-5 working days. There are no additional costs for this item.
Artillery Genius product details
Update 24. March 2021
New offer for the Artillery Genius 3D printer! At the online retailer Banggood there is the 3D printer with shipping from all EU warehouses currently for only 231 Euros to buy. There are no additional costs such as customs or import taxes.
The Artillery Genius is one of the most advanced DIY 3D printer kits on the market. When delivered, the 3D printer is already 95 percent built. Stand down, connect and start printing after just a few minutes. The Genius is particularly suitable for smaller prints. The printing area is 220 x 220 x 250 mm. The print bed is heated and provided with a special print film on which prints adhere particularly well. It takes just 110 seconds for the print bed to reach a hot 130 °.
The 3D printer is operated conveniently via a touch display. The built-in board is a FMD Gen L, an all-in-one control unit that offers the user a flexible and development-friendly basis. For precise prints, even at high print speeds, the Genius 3D printer uses a patented one Dual Z system. Through various security mechanisms, such as one Filament run-out sensor or Power stop, the 3D printer is able to continue printing safely. One of the clear advantages of the Artilleriy Genius is that they are particularly quiet Stepper. An overnight pressure? No problem!
The Titan Direct Extruder with Volcano Nozzle is also suitable for flexible materials (FLEX, TPU). The maximum printing speed is up to 150 mm / s. The connector for Auto bed leveling is already integrated in the 3D printer. You have to buy the appropriate ABL sensor separately.
Specifications
data
Brand: Artillery
Model: Genius
Type: 3D printer (FFF)
Print area: 220 x 220 x 250 mm
Layer resolution: 0.1 mm
Nozzle: 0.4 mm
Print speed: 150 mm / s
Movement speed: 250 mm / s
Filament: PLA, ABS, Flexible PLA, TPU, Wood, PVA, HIPS
Temperature: 240 ° C
Energy intake: 600W
Volume: <60 dB
Dimensions
Weight: 8.9 kg
Size: 43 x 39 x 51 cm
Artillery Genius reviews
ARTILLERY GENIUS or SIDEWINDER X1? [TEST / REVIEW / GERMAN]
User Reviews
Artillery Genius Price Comparison
Price too high? Use our price alarm clock!
Prices last updated on: January 31st, 2021 15:42 am