ANYCUBIC 4Max Pro 2.0 product details
Inexpensive 3D printers from China are on everyone's lips. Anycubic is a brand that positions itself high and represents 3D printers with that certain something. The Anycubic 4MAX Pro 2.0 has made it onto the market completely new. The 3D printer in a closed housing (454 x 466 x 410 mm) not only wants to look stylish, but also wants to score points with several advantages over open printers.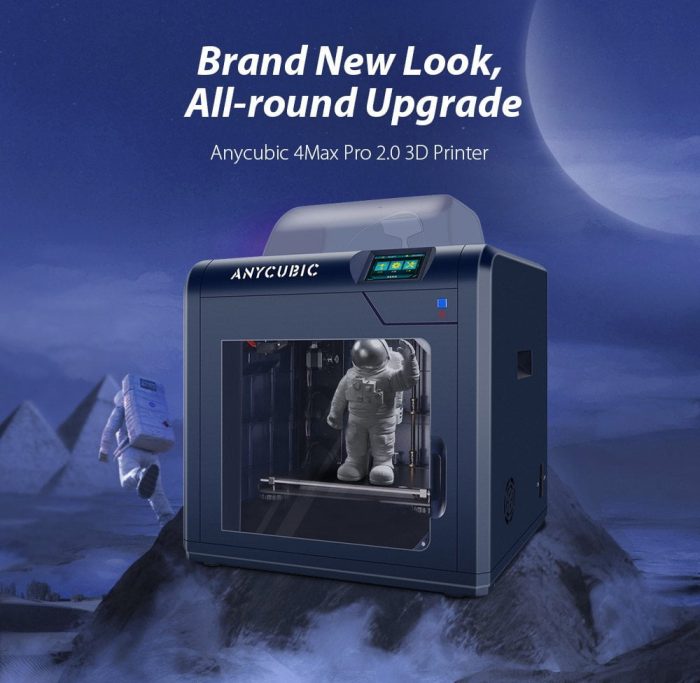 One of these advantages is the better thermal insulation, because it is much more difficult to escape from the closed housing. This also means that the print can keep the heat at one temperature better and is less subject to fluctuations. Anycubic specifies the maximum temperature of the nozzle as 260 degrees. That of the print bed is up to 100 degrees. A test of the Anycubic 4Max Pro 2.0 will have to show how quickly the printer gets up to temperature and how evenly it keeps it.

Inside the box is the metal structure that makes up the actual printer. Thanks to the so-called "core construction", the print head always remains at the same height. Only the print bed is moved in height. Speaking of the print bed. The print volume is 270 x 210 x 190 mm and is mainly suitable for smaller printing projects. Thanks to the Ultrabase glass surface, the print adheres particularly well, but can also be removed cleanly and easily at the same time. A carbon filter prevents unpleasant odors from escaping to the outside. An LED strip inside the housing provides light in the dark.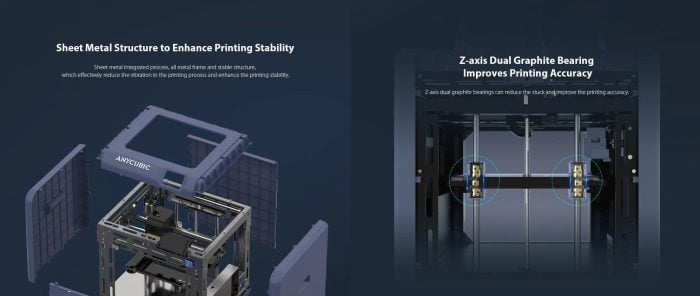 The Anycubic 4Max Pro 2.0 is operated via a 3.5 inch touch display. Functions that improve the printing experience include an "auto-off" function that switches the printer off after printing is finished, a "filament run-out detection" that pauses printing as soon as no more filament is fed in, as well as simple leveling by adjusting screw. Quality TMC2208 steppers ensure a quiet printing process, which is also dampened by the housing. Filament is passed through a dual gear extruder (BMG clone), which is suitable for all common filament types.

Specifications
data
Brand: ANYCUBIC
Model: 4Max Pro 2.0
Type: FDM
Nozzle: Single
Nozzle diameter: 0,4mm
Nozzle temperature: up to 260 degrees
Print area: 270x210x190 mm
Layer thickness: 0,05 - 0,3mm
Memory card: TF card
LCD screen: Yes
Printing speed: 150 mm / s recommended 50 mm / s
Temperature: up to 100 degrees
Accompanying material: ABS, TPU, PLA, HIPS, etc.
Material diameter: 1,75mm
Languages: English
File format: G-code, OBJ, STL
Model support function: Yes
X-axis positioning accuracy: 0,001mm
Y-axis positioning accuracy: 0,0125mm
Z-axis positioning accuracy: 0,00125 mm
Software: Cura, Repetier-Moderator
Compatible system: Windows, Linux, MAC
Voltage range: 110-240V
Current (W): 350 W
Connector type: USB
Certificates: CE, FCC, RoHs
Dimensions
Weight: 18,8 kg
Size: 454 466 x x 410 mm
ANYCUBIC 4Max Pro 2.0 reviews
video Reviews
Debut on Gearbest - ANYCUBIC New upgrade 4Max Pro 2.0 DIY 3D Printing
User Reviews
ANYCUBIC 4Max Pro 2.0 price comparison