Amazfit Bip S - Smartwatch with 40 days of battery life
As previously announced, Huami presented the Amazfit Bip S at CES 2020. In addition to minor hardware updates, the smartwatch offers an extended battery life of up to 40 days, 5ATM water resistance and Huami's PAI health system.
Overview
Design
Case shape: Square
Housing material: polycarbonate
Bracelet length: 11 + 8.5 cm
Bracelet material: silicone
Bracelet width: 20 mm
Protection class: 5ATM
Weight: 31g
Display
Display: transflective
Display diagonal: 1.28 inches
Display resolution: 176 x 176 pixels
other
Bluetooth: 5.0 BLE
GPS: Yes
Pedometer: Yes
Heart Rate Monitor: Yes
OS: Android / iOS
Battery: 200 mAh
Amazfit bip s
Huami already had this a few weeks ago Amazfit bip s teasered on Instagram. The new smartwatch was finally presented at this year's CES (Consumer Electronics Show) in Las Vegas. As was already foreseeable, the Bip S is not a reinvention, but a revamped update of those already released in 2017 Amazfit Bip.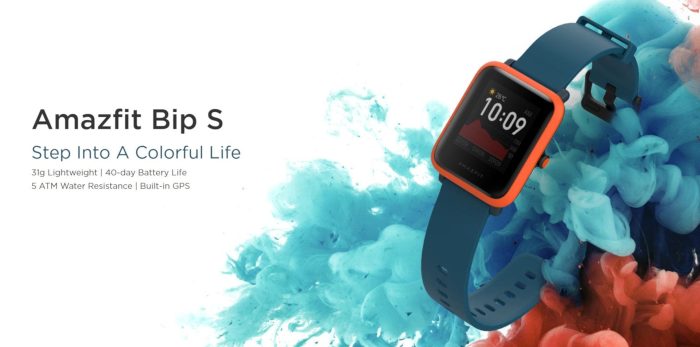 Colorful design
Extensive design changes have not been made. However, the color selection has been expanded. In addition to plain black, the smartwatch is available in the colors red orange, white rock and warm pink.
The rectangular watch case remains, but is now official waterproof up to 5ATM, The smartwatch can withstand everyday contact with water. But you shouldn't dive with it. There is another small change in weight. As "Ultra-lightweight" announced, the Bip S with 31g is minimally lighter than the original model.
Transflective color display
The display has also remained the same. This is still a 1.28-inch transflective TFT color display, The resolution is 176 x 176 pixels. A striking feature of a transflective display is the excellent readability in bright ambient light. Incident light is reflected and used to illuminate the display.
To ensure that the smartwatch remains legible even in the dark, the Amazfit Bip S is additionally equipped with a backlight. To reduce energy consumption, however, this is only active in poor lighting conditions. Incidentally, the display is "Always-On", If you want to check the time or sports data briefly, the smartwatch does not have to be switched on first. The display is protected by particularly scratch-resistant Gorilla Glass 3 and a lubricious coating.

10 sport modes and PAI
The Amazfit Bip S is included as a sports watch 10 sports programs fitted. In addition to various running programs, swimming programs and a program for free training are also available. The smartwatch uses precise tracking outdoors GPS, The route and all other course data can be conveniently synchronized and read out with the Amazfit app. The app is available free of charge for Android and iOS users in the respective stores. The data can be transferred to other sports apps, such as Google Fit, Strava or MiFit.
Generally the proprietary became Amazfit OS slightly polished. It is still not possible to install your own apps, but Huami has learned from its predecessor and the closed system has improved notification functions, a polished weather forecast and one Sound control lost.

Also on board is the most recently launched Huami-PAI Health Assessment System, The smart AI uses the data collected to calculate how daily activities affect the wearer's cardiovascular system. A points system shows the health value. The heart rate is measured using the BioTracker PPG sensor developed by Huami.
40 days battery life
The battery life, the Huami with was increased again up to 40 days indicates. The smartwatch even lasts for 90 days in standby and 22 hours with continuous GPS use. Of course, run times are very much dependent on individual user behavior. The values ​​are traceable as follows:
40 days: Factory settings, run once a week for 1 minutes, 30 notifications a day, 100% display brightness
90 days: default settings
22 hours: GPS (Sony Low-Power Chip) with continuous heart rate measurement

Initial Coverage
You prefer a Amazfit Bip 2 expected something to be patient. Somewhat lighter, with a longer battery life and with an upgraded interior, the Amazfit Bip S presents itself as an intermediate step to the Amazfit Bip 2. Who already has the Amazfit Bip wears on the wrist, for those the new Bip model should not be a worthwhile upgrade. However, interested parties should wait until February, because by then the smartwatch should be available globally for the equivalent of € 63.
Huami product page: en.amazfit.com/bip-s.html
What do you think about the new Amazfit Bip S? From there in the comments or in the Huami Facebook group!
Price Comparison
Would you like to buy the Amazfit Bip S? In our price comparison we list the current offers of the most popular shops. All prices are checked and updated several times a day. Should a shop appear several times, it concerns the different warehouses of the dealer.
Current prices
Price too high? Use our price alarm clock!
Prices last updated on: 17. September 2020 22: 42