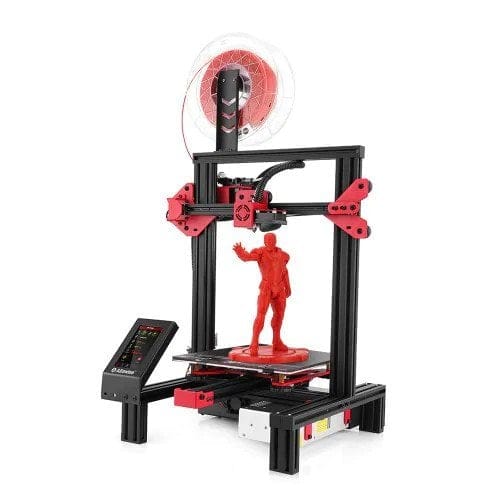 Alfawise U30 Pro for 191 €
With this coupon you can join Gearbest is Alfawise U30 Pro 3D Printer for only 191 € instead of 200 € to buy! Shipping is via Priority Line within 10-15 working days. Additional costs do not apply to this item.
Alfawise U30 Pro Product Details
Upgrade the Alfawise U30
The Alfawise U30 Pro is as the name implies Upgrade the Alfawise U30, The basic functions of the DIY 3D printer (detection of filament failures, power failure recovery, etc.) as well as the housing have largely remained the same as the previous model. That too print volume is with 220 x 220 x 250 mm identical.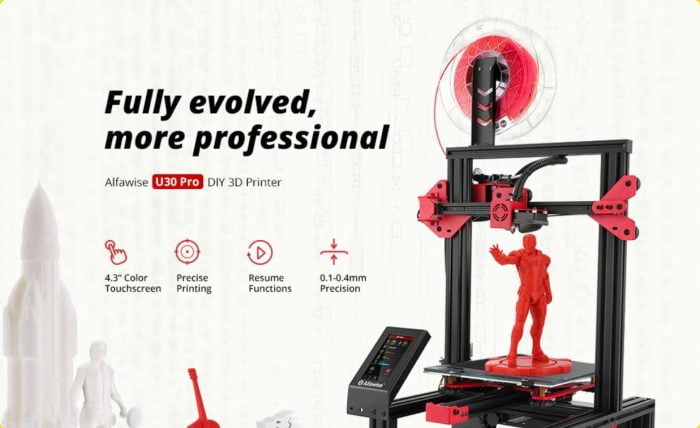 Improved user interface
One of the new features is one larger 4.3 inch touch display, For intuitive operation, the user interface has been completely redesigned. Particularly interesting for tinkerers is the new motherboard that with the Open Source Marlin firmware running. Changes and improvements from the Maker Community can be considered as soon as possible. Also new are the drivers. Instead of the 4988er of the U30, the U30 Pro uses the quieter ones TMC 2208er, For added convenience, the micro SD port has moved to the side.

Specifications
data
Brand: Alfawise
Model: U30 Pro
Type: DIY
Material (frame): aluminum
Nozzle: Single
Nozzle diameter: 0,4mm
Nozzle temperature: up to 250 degrees
Print area: 220x220x250 mm
Layer thickness: 0,1 - 0,4mm
Memory card: TF card
LCD screen: Yes
Print speed: 120 mm / s recommended 30-70 mm / s
Temperature: up to 100 degrees
Accompanying material: Abs, PLA
Material diameter: 1,75mm
Languages: English
File format: G-code, OBJ, STL
Model support function: Yes
XY axis positioning accuracy: 0,0125 mm
Z-axis positioning accuracy: 0,0025 mm
Voltage: 24V
Software: Cura, Repetier-Moderator
Compatible system: Windows, Linux, MAC
Laser life: no
Laser wavelength (nm): no
Voltage range: 110-240V
Current (mA): 15000mA
Connector type: USB
Certificates: CE, FCC, RoHs
Dimensions
Weight: 7,9 kg
Size: 42,50 x 40,20 x 50,50 cm
Alfawise U30 Pro reviews
video Reviews
ALFAWISE U30 Pro 3D printer TEST - BEST touch display? [ENGLISH / Review]
user reviews
Alfawise U30 Pro
Overall rating:
(1 reviews)
Write a Review
The printer was from the EU camp in 4 days with me. Was neatly packed and there was no damage. The printer is set up in less than an hour. After some fine-tuning, the print results are really first. Clearly recommended for the price.
Alfawise U30 Pro Price Comparison
Current prices
Price too high? Use our price alarm clock!
Prices last updated on: 12. August 2020 06: 59