ADO Z20C product details
"A Dece Oasis" is the name of the new manufacturer of the ADO Z20C electric bike, which falls into the fat bike category due to its 20 inch tires. The e-bike can be folded at 3 points and stowed away particularly compactly. The foldable ADO e-bike is unfolded and ready to go in just 10 seconds. The frame is made of aluminum and gives the bike a total weight of 29kg. The maximum load capacity is 120kg.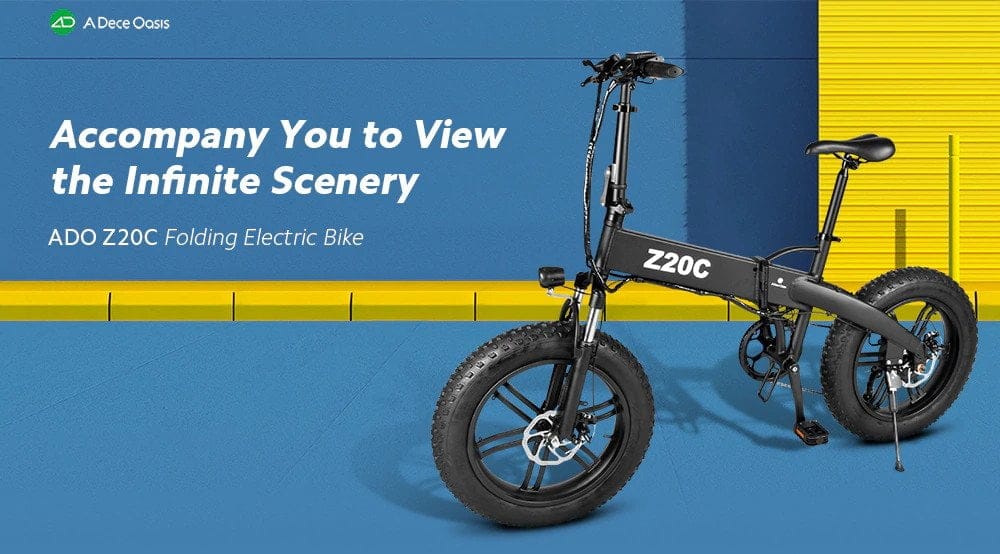 The 20 x 4 inch tires with profile make the e-bike suitable for trips in pretty much any weather. The e-bike is powered by a 350 watt motor, which in turn is powered by a 10AH 36V battery. A BMS monitors and protects the battery from damage. ADO states that the maximum speed is 25 km / h. The range of up to 40 km in a purely electric drive. Of course, the electric bike can also be driven purely on the pedals. A so-called pedelec mode, in which the electric motor is switched on as an alternative, is also available.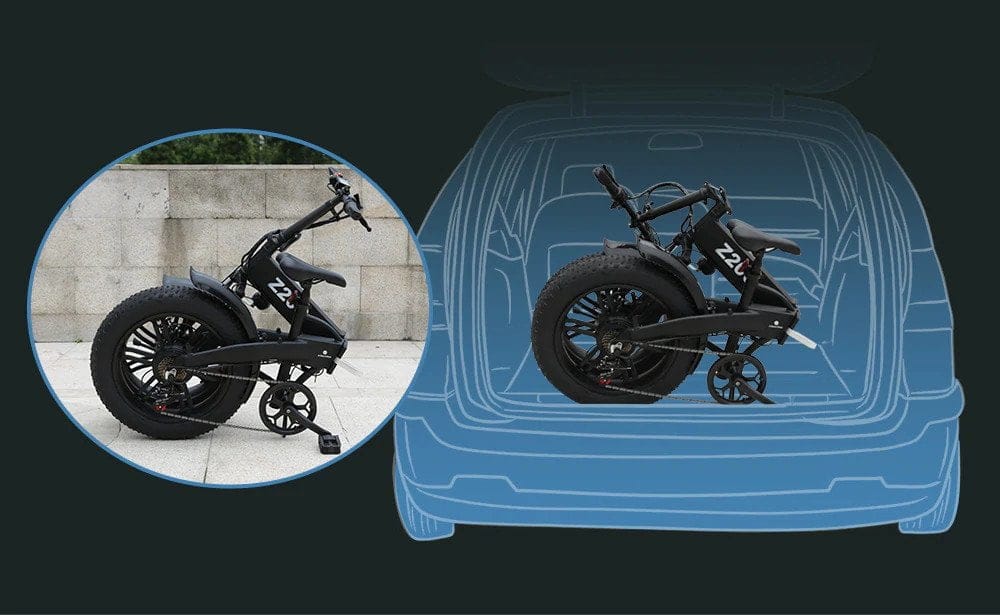 Thanks to the 7-speed Shimano gearshift, gradients of up to 30 ° can be mastered. Disc brakes on the front and rear wheels ensure particularly short braking distances. The e-bike is on a dry road after 4 meters. After 6 meters on a wet road. The "Smart Vector Control System" forms the bike computer of the ADO Z20C. The motor, battery and brakes are connected to the system and provide the rider with useful information on the status of the bike. This information includes, among other things, general information on range and speed, but also more specific information on energy recovery.
Specifications
General
Brand: A Dece Oasis ADO
Model: Z20C
Type: E-Bike / Pedelec / electric bike
Leistung: 350W
Battery: 10AH / 36V
Parameter
Range: 40 km
Speed: 25 km / h
Incline: up to 26-30 °
Load capacity: max. 120kg
Tires: 20 inches
Dimensions
Weight: 29 kg
Size (unfolded): 120 x 49 x 105 cm
Size (folded): 120 x 22 x 68 cm
What's in the box
Includes: 1 x e-bike, 1x tool, 1 x English user manual
ADO Z20C reviews
No test reports available yet!
User Reviews
ADO Z20C price comparison