360 S6 product details
Update 26. November 2020
The 360 ​​S6 vacuum robot with LDS laser navigation has reached a new low price. The vacuum robot is currently available at Gearbest for only 219 euros. Shipping is from Germany and takes about 2-5 working days.

Powerful on all surfaces
The 360 ​​S6 is a vacuum robot with high suction power and a powerful drive. The robot vacuum reaches a suction force of 1800 Pa and is suitable for smooth surfaces as well as deep-pile carpets. With its automatic carpet detection, the S6 automatically increases the suction power and even picks up fine dirt and animal hair. The S6 overcomes obstacles with a maximum height of 1.5 cm.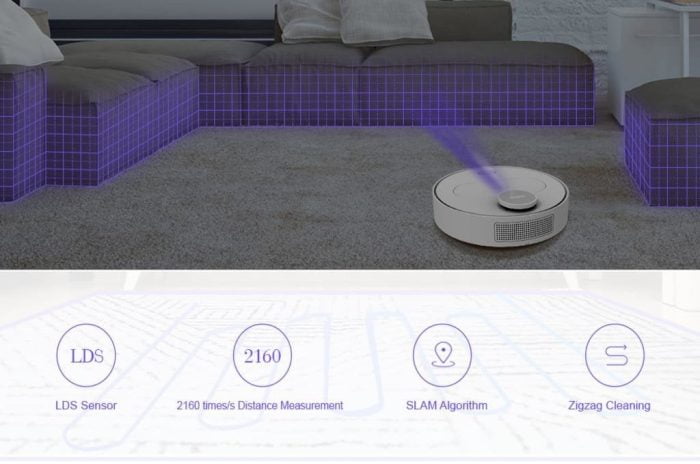 The removable dust chamber has a capacity of 420 ml. That is enough to clean a 120m² living space in one go. By the way, the robot vacuum cleaner can also wipe wet. The scope of delivery includes a compact water tank (150 ml) with a wipe that can be attached to the underside.
LDS sensors with room detection
A comprehensive sensor system ensures that obstacles are recognized at an early stage and unwanted crashes are avoided. The laser tower of the 20.000 ​​S360 scans the environment at up to 6 revolutions per minute. In combination with the SLAM algorithm, a detailed room map is created with which the vacuum robot moves through the room without collision. Additional sensors on the sides and bottom prevent collisions and falls.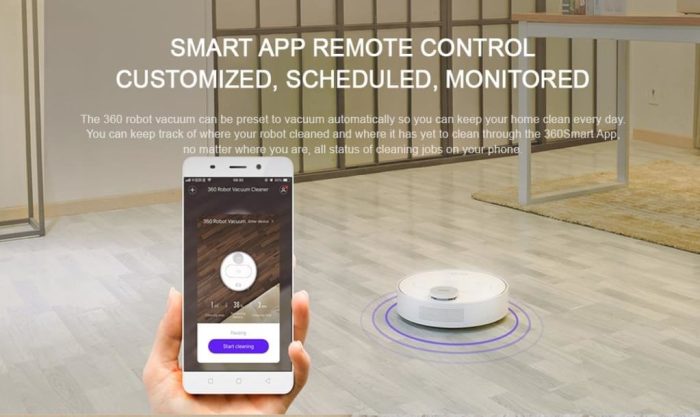 Smart app and long-lasting battery
To get an overview of the cleaning process, the 360 ​​S6 can be connected to an app (Android and Apple). This not only shows the room map, but also enables the robot vacuum to be controlled manually. The room division function is particularly practical. Cleaning areas and so-called no-go zones can be drawn directly on the map.
A 3200 mAh battery supplies the 360 ​​S6 with power. Depending on the suction level, this is enough to suck for 2 hours at a time. If the battery is empty, the return-to-home function brings the vacuum robot safely back to the charging station. The charging time is approx. 3 hours.
Specifications
data
Brand: 360
Model: S6
Type: Suction robot with LDS
Cleaning modes: SLAM
Cleaning area (sqm): 80-100 m²
Floor types: carpets, tiles, wood up to 15 mm
Dust container volume: 420 ml
Water tank: 150 ml
Volume (dB): ≤65dB
Energy intake: 22,8W
Charging time: 3 hours
Operating time (hours): 50 - 120 minutes, depending on the mode
Dimensions
Weight: 3,5 kg
Size: 35,00 x 35,00 x 10,00 cm
360 S6 reviews
360 S6 SUGROBOTER TEST (Review German) ► Sucked, wiped, loaded!
User Reviews
360 S6
Cleans and is quiet
Super vacuum robot with great price. Cleans properly, moves precisely through the room and is quiet. If you don't want to spend more than € 300, the 360 ​​S6 is the perfect choice.
360 S6 price comparison